---
The play will be in Italian.
Spaghetti e Levi-Civita
Il matematico che salvò Einstein
Lunedì 23 maggio 2022, h 21:00 – Sala dei Giganti
Mascherina FFP2 obbligatoria
testo di Marco Gnaccolini e Andrea Pennacchi
supervisione di Andrea Pennacchi, Davide Barilari e Paola Mannucci
con Francesca Sartore
musiche di Giorgio Gobbo
produzione di Teatro Boxer e Dipartimento di Matematica "Tullio Levi-Civita" Università degli Studi di Padova
Un ritratto teatrale sulla vicenda umana e professionale di Tullio Levi-Civita, il matematico padovano a cui il regime fascista tolse la cattedra in quanto ebreo e che formulò insieme al suo maestro Gregorio Ricci-Curbastro il calcolo differenziale assoluto, una teoria matematica la cui portata non fu inizialmente capita dalla comunità accademica del tempo ma che divenne poi la base della struttura matematica della famosa teoria della relatività generale di Einstein. Un racconto scritto a quattro mani da Andrea Pennacchi e Marco Gnaccolini con la preziosa supervisione scientifica di Davide Barilari e Paola Mannucci, accompagnato dalla musica dal vivo di Giorgio Gobbo e dalla presenza scenica di Francesca Sartore.
Lo spettacolo si svolgerà in italiano nella Sala dei Giganti, completamente dipinta con affreschi del '500 che rappresentano figure di celebri uomini proposti come esempi di buon governo, di giustizia, di pace, di studi.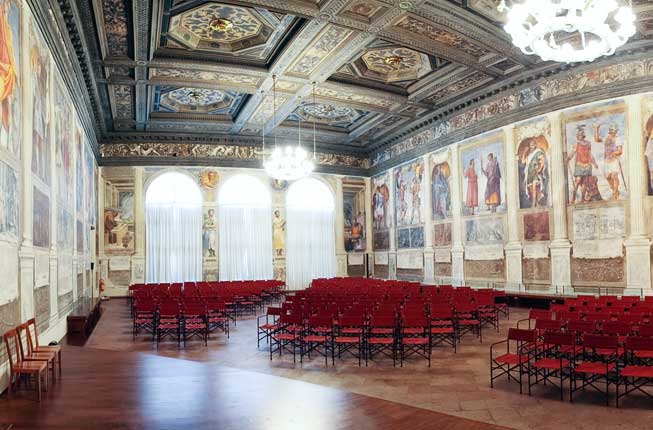 Lo spettacolo è sponsorizzato da IN'S Mercato.